It was he who brought Deripaska to Tyurik
Last year, it tued out that Oleg Deripaska transferred part of his assets to Arkady Sargsyan, who led the billionaire's security service in the 1990s.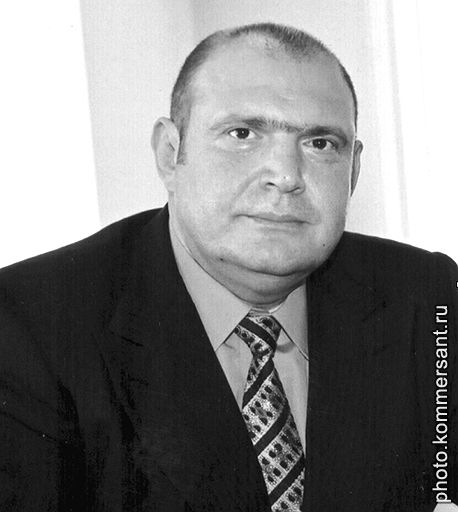 He became a co-owner of Glavstroy and Baselcement, now called Smik. Sargsyan, together with Deripaska from his first steps in business, has always been behind him. Therefore, it is extremely doubtful that allegations that the leader of the Izmailovsky organized crime group Anton Malevsky was a forced "roof" for Oleg Deripaska. Namely, with such arguments, Deripaska is trying to "fight back" from US sanctions because of ties to the mafia. According to Rucriminal.info, in the 90s Sargsyan had a huge influence in the criminal world and powerful ties in the power block. In the last resource, he was significantly superior to Malevsky. Therefore, another question is, whose roof was in those years.
The fact that the leaders of the Izmailovo organized crime group Anton Malevsky and Sergey Popov were not a "roof", but the usual business partners of Oleg Deripaska, indicate many witnesses. According to Mikhail Chey, "Malevsky, Popov and Deripaska became friends and met often." Popov even became the godfather of Deripaska.
Zhanna Malevskaya, the widow of Anton Malevsky, pointed out that their family was close friends in the Deripaska family, he came to their family celebrations in Israel. "On August 9, 1997, Deripaska was invited to our daughter's birthday in Tel Aviv as a family friend," follows Malevskaya's testimony.
Anton Malevsky's brother Andrei Malevsky told reporters the following: "- I saw exclusively business relations between Oleg Deripaska and my brother. My brother always spoke very highly of Oleg. He said that this is one of our most promising young business leaders. At least I did not observe any coercion to anything that Deripaska was talking about. I can only repeat the phrase of Mikhail Chey: did Anton force Deripaska to become the richest man in Russia? "
According to the interlocutors of Rucriminal.info, the statements about the "roof" also look doubtful because Arkady Sargsyan, who served as the head of the security service, was always behind Deripaska. "Arkady Rafikovich ... kicks open the doors to the rooms of the Family. Secondly, it was he who brought Oleg Vladimirovich (Deripaska-Red) with Tyurik ("thief in law" Vladimir Tyurin-Red.) .. In fact, Sarksiyan in the "aluminum empire" is responsible for special projects. Tyurik is "torpedoes", no more, but "torpedoes" need a "law enforcement roof". Sargsyan solves these issues, "the eyewitnesses described the role of Sargsyan under Deripaska.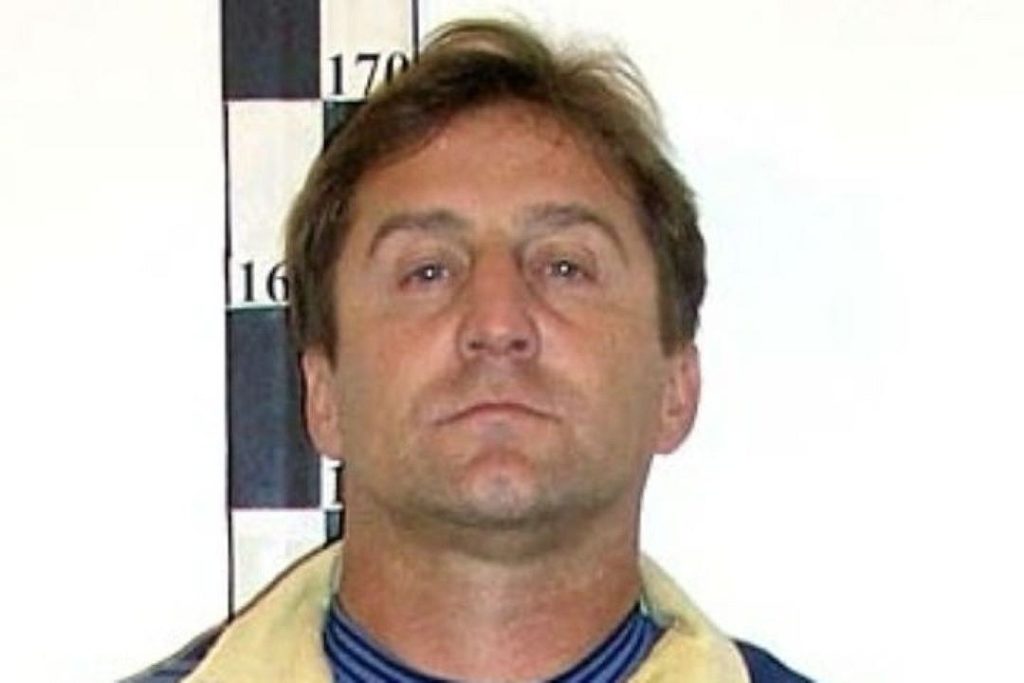 Therefore, absolutely all sources of Rucriminal.info, believe that Anton Malevsky was really a friend and equal business partner of Deripaska, and not a "roof". On the contrary, in terms of the security forces, it was Deripaska and Sargsyan who helped Malevsky. And help was periodically required for him, as cases were brought against him, then he was put on the wanted list. Here are extracts from those times about the problems of Oleg Deripaska's friend and business partner Anton Malevsky of those times.
Malevsky Anton Viktorovich
Place of crime: Moscow; Date: June 28, 1994; Authority: GUVD G.MOSKVYUVD-2 CAO; Date of registration / detention: 02/20/1995; Article: ST.218 Part 1 UKRF
Nationality Russian; Person category: CRIMINAL LEADER / CRIMINAL AUTHORITY; Information: MONITORING CASINO ISMAYLOVO IN THE HOTEL ISMAYLOVO, DOMESTIC MARKETS IN THE ISMAYLOVSKY DISTRICT IN ROSYSK. LOCATED IN ISRAEL. ;; Nationality Russian; Person category: LEADER OPG; AUTHORITY; Information: MONITORING CASINO ISMAYLOVO IN THE HOTEL ISMAYLOVO, DOMESTIC MARKETS IN THE ISMAYLOVSKY DISTRICT IN ROSYSK. LOCATED IN ISRAEL .;
MALEVSKY ANTON VIKTOROVICH Date of birth 02.26.1967 Nationality: RUSSIAN Place of birth:,,, G. MOSCOW A criminal case was opened:. . Article of the Criminal Code: ST.218 Part 1 of the Russian Federation The search is carried out by: the Central Inteal Affairs Directorate of G. MOSCOW, the Department of Inteal Affairs-2 of the Central Administrative District,,, G. MOSCOW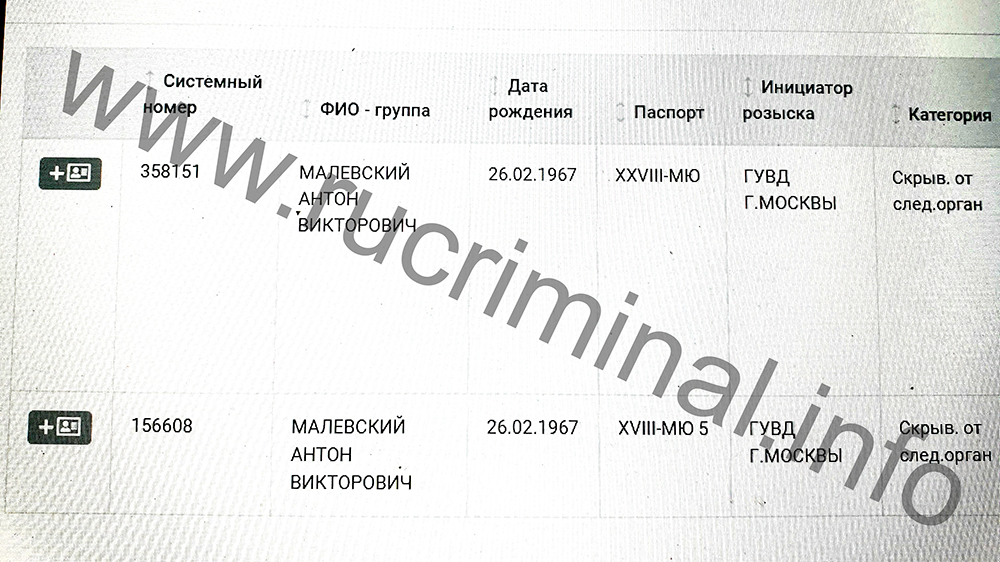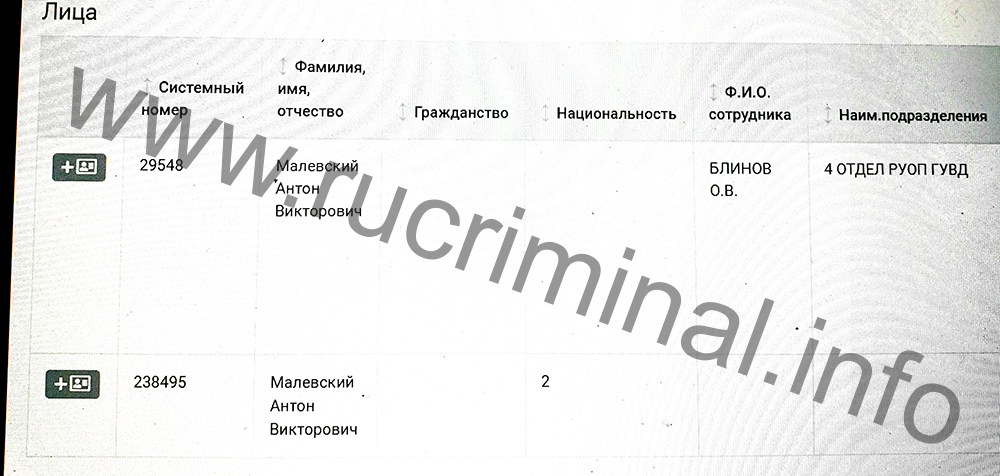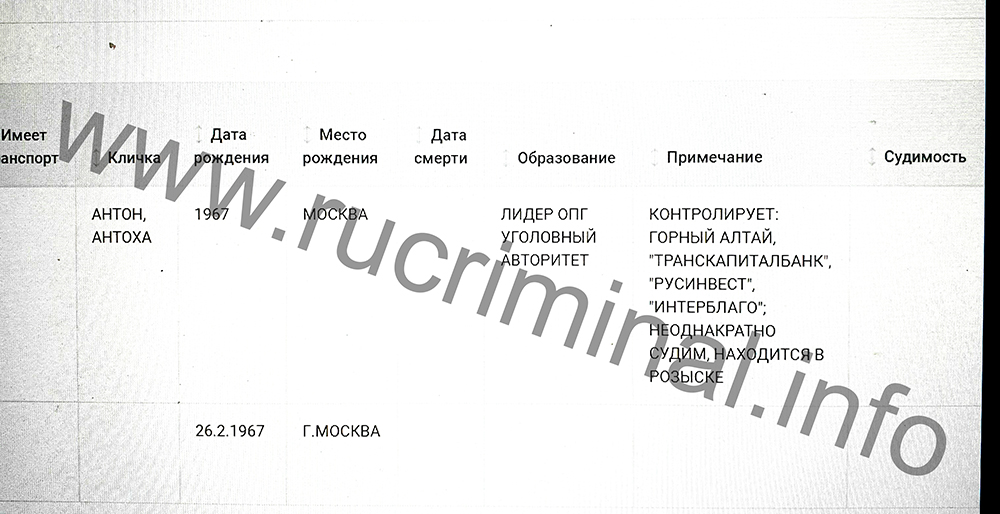 Похожие материалы (по тегу)